Searching for Joy and Authenticity: A Conversation With Thomas Bröker
By Jenn Monaghan
In seeking inspiration outside of the 9-5 world, Thomas joined Sale-A-Day in November of 2021. After so many years of searching for authenticity, Thomas was overjoyed to find a community that aligned with his business and life values. He walks us through the importance of staying true to yourself, committing to simplicity, and how workshops changed his life for the better.
Location: Marburg, Germany
Business: Essences Media
Latest Mini Workshop: Authentic Relating Game Introduction Workshop
---
Meet Thomas
Thomas lives with his wife in Marburg — a town about an hour north of Frankfurt.
He loves forest bathing, making music, and studying the art of human nature. But above all else, Thomas lives for spending time in nature.
When the sun comes up, he'll often pack his bag and head to the forest — sometimes for the day and sometimes for the night. It's this time in the forest where Thomas feels at his best. With the sounds of nature all around him, he'll alternate between daydreaming, working, and soaking up inspiration from his hammock.
If you were to ask Thomas what inspires him, he would tell you that everything around him is a source of inspiration.
"Life is a full-blown inspirational experience! I couldn't exclude anything that doesn't inspire me."
In his business, Thomas teaches people how to experience more freedom and fulfillment in their lives — from the inside out. And, it makes perfect sense. Thomas exerts a kind and peaceful energy that immediately puts those around him at ease.
When he speaks, you feel inclined to listen. He's just that kind of that person.
With a contagious zest for life, Thomas knew the 9-5 world wasn't for him
When Thomas was a student, he worked as a cameraman for a public tv station.
While this job aligned with his studies, he started to feel dejected in his career. He saw how his older, more established co-workers appeared — they were bored, tired, and relentlessly uninspired. The whole experience confirmed a fact Thomas had always suspected: he could never work a "traditional" job.
"I've never had a 9-5 job. It's just not possible for me to be employed."
Thomas started his own business as soon as he graduated from University. Although he was initially relieved to be working for himself, he began feeling overwhelmed and exhausted in his work. What once felt like passion and excitement eventually transformed into something more concerning: burnout.
The burnout came from not being able to set boundaries in his working life and attempting to fit into the tiny box of a "normal life". And so, Thomas committed to a three-month break to rediscover his place in the world.
Before joining Sale-A-Day, Thomas had launched his own series of workshops
After bidding farewell to his job as a cameraman, Thomas launched a workshop and was thrilled with the experience. After all, he loves talking on camera and he thrives on meeting new people. In a sense, he was kind of born to do workshops.
He repeated this same workshop live 12 times. It filled his backend offers (1-2 day weekend workshops) and lead to an email list of 120 buyers — the open rates of his emails went from 85% to 290%.
Once the doors opened, established workshop facilitators (with more than 10 years of experience compared to Thomas!) wanted to collaborate with him. In fact, a musician who was producing music with Lady Gaga joined his workshop and the two nearly collaborated on a concert.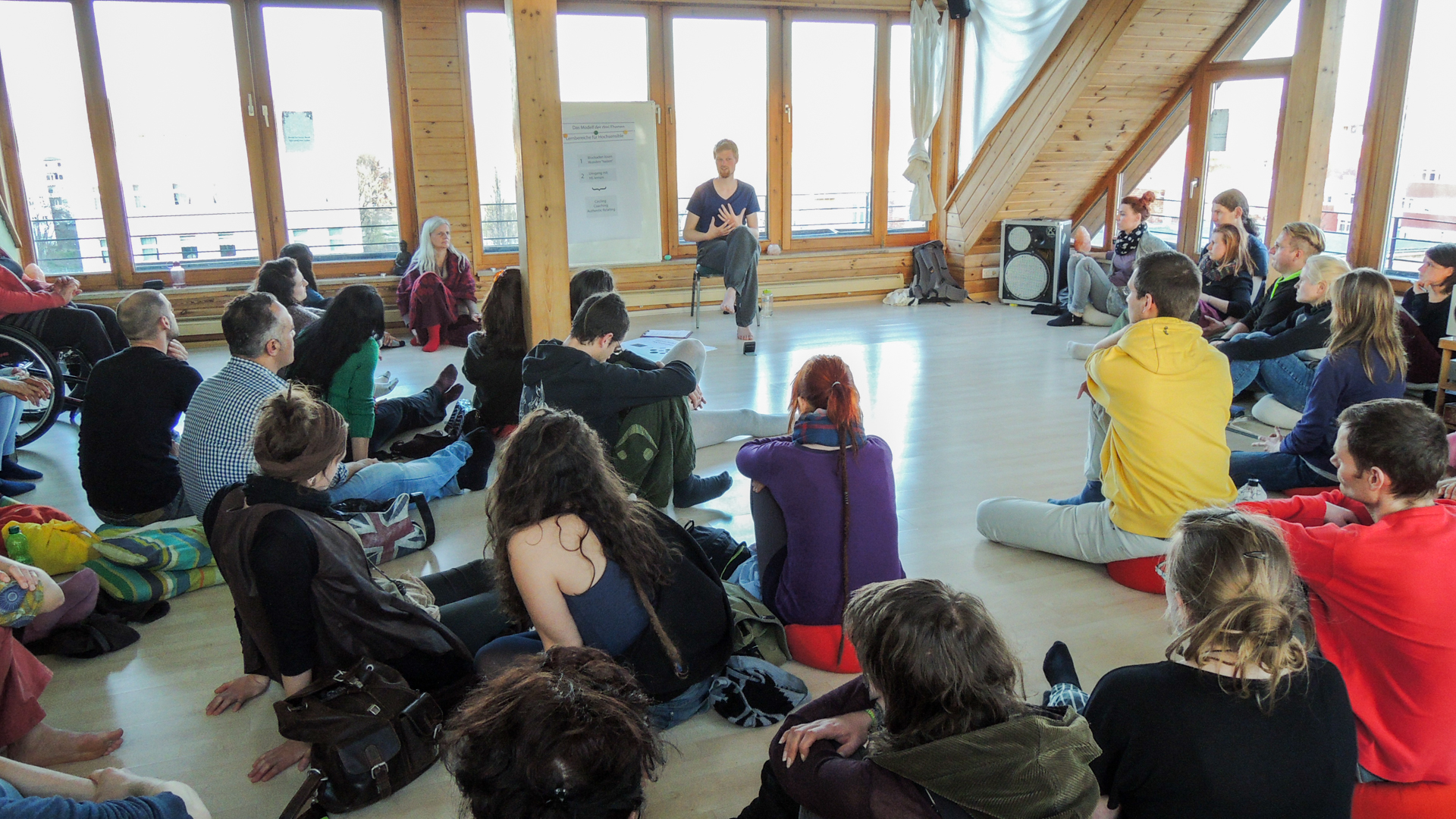 Thomas left Berlin and traveled the world for 1.5 years as a digital nomad
During this time, he searched high and low for marketing advice that aligned with his soul.
For a few years, he went from one" secret formula" to the next, having fallen into the trap of manipulative marketing. The more he tried to implement the advice from his "marketing experts", the more he struggled both mentally and financially.
"It felt awkward. The aliveness and authenticity were gone."
When Thomas crossed paths with Sale-A-Day in November 2021, he breathed a sigh of relief. In all the years he'd searched for marketing and community that aligned with his values, he never thought he'd actually find it.
Unlike the marketing strategies he'd been roped into in the past, the Sale-A-Day community was noticeably different. In a sea of online strangers, this new community felt like home.
Thomas launched his first Mini Workshop in four years, a Break From Everyday Life
In a sense, Thomas looked at this workshop as a test.
As a lover of all things music, Thomas was excited to launch a workshop that combined music and meditation. His goal was to use Binaural Beats and guided meditation to usher his attendees into a deep state of relaxation. Just as Sarah and Justin had instructed, he vowed to keep it simple.
He created a straightforward checkout page, sent an email to his list, and filmed a YouTube video — it was about an hour of his time. Despite the simplicity, 50 awesome humans showed up to his workshop and left Thomas rave reviews.
"Everyone loved it and it was super simple."
This workshop gave Thomas the confidence he needed to steer his ship forward. While the financial reward was exciting, Thomas loved knowing that he was truly serving his people and helping them get results.
After years of struggle in the online marketing world, he finally began feeling more like himself. Slowly but surely, Thomas was finding his footing in the workshop world once again.
Thomas delivered his next Mini Workshop in February
Thomas was eager to gain traction on his next workshop and he wasn't planning to wait around.
For this workshop, Thomas targeted an issue he knew many people struggled with: poor sleep habits. In witnessing just how stressed and hurried the world around him appeared, he knew it could be a hit. As it turns out, he wasn't far off.
"96 people signed up for this workshop — nearly twice as many people as before."
Although the workshop was a success, Thomas realized there were two key problems: the workshop required too much preparation and it wasn't leading to his backend offer — a membership.
Feeling inspired, it was time to go back to the drawing board.
In April, Thomas launched his third workshop, Authentic Relating Game
Introduction
Leading up to delivery, Thomas had a good feeling about this workshop.
It was all about using authentic relating games to create a safe space in which people feel safe, seen, and heard. The idea was to give his attendees a playbook for relating to others in a way that felt easy and genuine.
While he knew this workshop wouldn't reach the same numbers as his sleep workshop, he had faith in its longevity. He loved the workshop content and it aligned perfectly with his bigger offer.
In the end, Thomas delivered this group of 42 attendees. And, just as he had hoped, his attendees couldn't wait to continue their journey with him.
"Several of them already asked in the workshop: 'what's the next step? How can we move on with you?'"
This was the sign Thomas had been waiting for — he had finally found a workshop he couldn't wait to repeat in the future. Of all the workshops in Thomas' belt, this workshop was proving to be the one.
Not long after, Thomas received a call from a friend in the finance industry
They had originally met in Berlin and fostered an immediate connection.
He asked him if he'd be willing to speak to his community and Thomas happily accepted the invitation. With a community of over 70,000 people in the finance industry, Thomas knew this was a golden opportunity.
As Thomas was creating the presentation for his talk, an idea popped into his head: this presentation could make for an awesome series of Mini Workshops — so he made it happen.
"I created this not so mini workshop which is 3 Zoom sessions over periods of 3 weeks. Now there are 175 people signed up for it."
Unlike his past workshops, this one felt different. He would be speaking to his biggest audience yet and then inviting them to join his membership. When intimidation reared its ugly head, Thomas reminded himself to keep it simple and just serve his people.
As Thomas continues to prepare for his workshops, he couldn't help but feel reflective: "I'm achieving my goal" he tells us, "this is working".
Reflecting on the last 9 months, Thomas feels more himself than ever before
Thomas didn't join Sale-A-Day to carve a quick path to riches.
While he knew that bills had to be paid, he longed to find authenticity and joy in his career. He wanted to find inspiration, community and align himself with people who actually shared his values.
"In Sale-A-Day, this is the first time I feel like I can be myself as an entrepreneur…It's so amazing to have the freedom and to have people in the community who are all about freedom and doing things their own way."
With inspiration from Sarah and Justin, Thomas learned how to embrace his own rules. He brought to life something that once felt like a fantasy — running a business that brings him joy and earning a livable income.
No longer would Thomas try to fit in the box that society crafted for him. He had finally found his place in the world and found his purpose.
What's next for Thomas?
Looking into the future, Thomas feels a deep sense of ease.
Where he once felt lost and uninspired, Thomas finally feels like he's in the right place. He can serve his people in a way that feels authentic, and he can go to bed at night knowing he's made a difference in someone's life.
As he progresses even further into his workshop journey, Thomas is eager to combine the things he loves most into a workshop experience: music, guided meditations, and deep joy.
It's what he's been searching for all along — relaxation, fulfillment, and the ultimate freedom to do what makes him happy.
With Thomas' zest for life and his ability to foster deep connections, we can't wait to see what Thomas does next. All we know is that it's sure to bring a lot of joy to the world around him.