How we're using "content-free" upgrade offers to turn low-ticket workshop sales into $200, $500, or even $1000 of instant profit
pssst…this is also our favorite way to help workshop buyers get even better results!
When we started selling content-free Instant Upgrade offers, our business got easier + more profitable overnight.
Paid workshops are the perfect way to bring people into your world…but they don't create a ton of cash flow by themselves.
The profit comes when low-ticket buyers upgrade into your deeper work.
Problem is, traditional "ascension" strategies take a lot of time, and are often a big jump in price and commitment.
So…we started testing something.
We invited workshop buyers to upgrade RIGHT AWAY.
Not into a huge $10k offer.
Just into a super-simple $200, $300, or $500 offer.
An easy yes.
The results have been MAGICAL.
We're making more money from our workshops, building close relationships with buyers right away, and helping people make fast progress.
And now we want to show you how to do the same!
Ready to generate more workshop profits without needing to sell more tickets?
OPTION 1:
10 workshop ticket sales
How we're using "content-free" upgrade offers to turn low-ticket workshop sales into $200, $500, or even $1000 of instant profit
Come up with a no-brainer "add-on offer" that's a natural next step for your workshop buyers
Package that "next step" into one of our 8 proven content-free offer formats (they're all super light to deliver)
Use our templates to create a super-simple invite page that gets people saying "yes please" instantly
And you'll also get these time-saving resources to help you create your own Instant Workshop Upgrade in record time!
RESOURCE #1
No-Brainer Offer
Brainstorming Prompts
Get the exact prompts we use to come up with "easy yes" upgrade offers that are a perfect next step for new workshop buyers
RESOURCE #2
Ultimate Breakdown of 8
Proven Offer Formats
See the 8 content-free offer formats that work in any niche (we've tested every single one of these in at least one of our businesses)
RESOURCE #3
Fill-In-The-Blank Copy
Templates & Video Scripts
Set up your invite page in record time by modelling the scripts & templates we've been using to fill up our upgrade offers for years
RESOURCE #4
Behind-The-Scenes Offer
Delivery Checklist
Keep fulfillment simple & streamlined with our in-house checklists — people are always surprised by how EASY these offers are!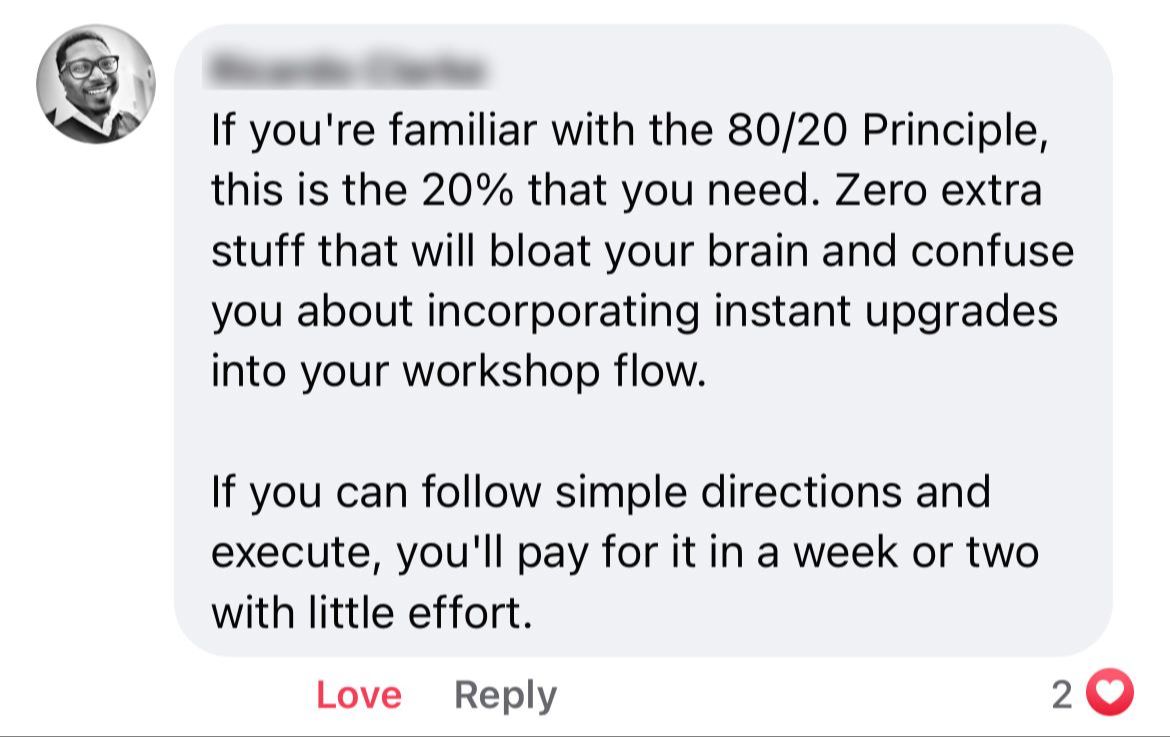 See what's possible when you create a simple Instant Workshop Upgrade
We've seen these content-free offers convert at 20%, 30%, and even 40%. It takes time to optimize, though. So look at the profits you can bring in with just a 10% conversion rate!
Step off the content creation treadmill. Take a break from big back-end offer launches. And watch workshop sales + extra upgrade profits roll in.